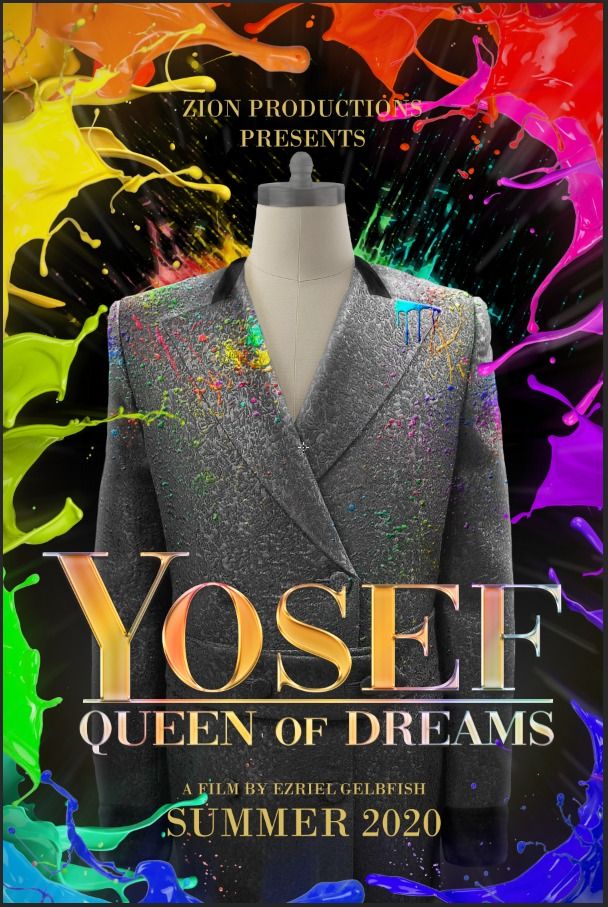 Hey there!
My name is Ezriel Gelbfish and I'm the writer-director of an Instagram film called Yosef: Queen of Dreams. Can I tell you a little about it? The story follows an Orthodox Jewish youth named Yosef who makes a technicolor 'bekishe' (Hasidic gabardine) and posts about it on Instagram, leading to him getting disowned by his family and community. Weathering homelessness and the depth of self-harm, Yosef must find the strength to live his authentic life as he ascends to become Queen of the nightclub House of Egypt.
To see more about the film, follow @yosef.dreams on Instagram. The film will be released exclusively on that app, much like the recent Holocaust Instagram account @Eva.Stories. As someone who is personally LGBT and Orthodox, I found that reconciling the tension between my identities was challenging. But creating art and expressing myself through Instagram helped me find a unique synthesis of the backgrounds I come from. On social media, boys can wear makeup, girls can overcome haters, and everyone can connect with their chosen communities.
Please consider donating what you can to this project. We've already raised half our budget via a $10,000 grant from the NY Mayor's Office. But we can't complete our shoot without an additional $10,000. This project will total 15 minutes of content, all of which require paying design collaborators, renting locations and equipment, buying costumes, sets, makeup, and much more. We hope you can help us bring this important story to life.
Sincerely,
Ezriel Gelbfish
Writer-director, Yosef Queen of Dreams
Donate via Credit Card or eCheck
Yosef.Dreams FAQ
Is my donation tax deductible?
Yes, we are a fiscally sponsored project of Jewish Creativity International, which is a public 501c3 organization recognized by the IRS. Your donation is tax-deductible to the fullest extent permissible by law.
WeDidIt FAQ
Is my donation and credit card info secure?
Yes, the security and confidentiality of your information is our highest priority. We will not sell, trade or share your personal information with anyone else, nor send donor mailings on behalf of other organizations, and we will only share personal information if you have given us specific permission to do so.
How do I know that my donation was made successfully?
You will receive an emailed receipt immediately after your donation is submitted and your credit card is processed. Your donation will also show up on your bank or card statement within 1-3 business days.
Do I get a receipt?
Yes, a receipt is sent to your email inbox once your donation is processed. Please be sure to keep a copy of your receipt for tax purposes. If you select a recurring donation, you will be sent an individual receipt each period when your donation is processed.
Is my donation private?
We will not share or sell a donor's personal information with anyone else, nor send donor mailings on behalf of other organizations.